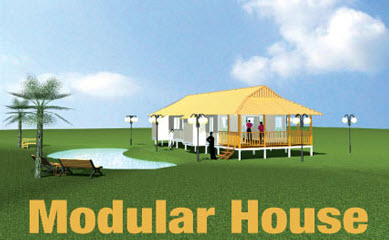 SKF modular house is a unique design and constructed by Structural Insulated Panels (SIP). The concept of Structural Insulated Panels is not new. It was developed 50 years ago in the USA and originally using expanded polystyrene foam sandwiched in between two layers of plywood, many fine houses were constructed and are still providing good service today. With the development of permanent structural and injected polyurethane foam core (PUF), today's SIP provides great strength and excellent thermal properties combined with ultra flat, accurate level surfaces inside and out. The external and internal cladding material is available in a full range of finishes. This ensures SKF modular house construction home will be anything but ordinary.
Unlike conventional modular housing that requires specialist and costly transport, SKF modular house is much the same as the familiar flat pack furniture. It's fully prefabricated and knocked- down. The complete packed house will be able to load in standard sea container shipping to any places in the world. Following the instruction manual with a team of just 3-4 persons, SKF house will be fully assembled in just a few days at your site.
Advantage of SIP house construction
High strength, maintaining very light weight
Energy Savings - Typical savings of 35-50% on HVAC Vs. conventional wall. Keeping heat in winter and protecting heat in summer.
Speed of Construction - Reduced labor costs; contractors can do more jobs over the same amount of time – Typically shortens envelope construction timetable by 50% or more.
Environmentally Responsible – Recycle ability and reduce reliance on wood-based products.
Reduced Management - With SIPs, the frame of the building and the thermal envelope are one and the same, which simplifies the supervision and coordination of the various aspects of construction. Pre-cut electrical & mechanical chases simplify plumbing and electrical tasks.
Increased Building Season – Quick erection of building envelope lengthens the building season in many parts of the country even rainy season.
Relatively cost effective comparing with conventional wall.
Quieter Structure – Polyurethane sound attenuation qualities reduce noise pollution.
Design Flexibility - SIPs can simplify construction by integrating structure with insulation. Panels can be used for walls, roofs, and floors, window and door openings are already in place, headers are pre-engineered and installed.
Economical – Most types of SIPs compare very well on a materials cost basis with other types of construction. The real savings comes from reduced installation costs and energy cost savings over time.
Who can be our customers?
Any housing project either funded by government or private investment which has to build quickly a number of houses in one particular big area or different area.
International organization relating disaster relief, human resettlement etc.
Remote Construction camp.
Worker's housing for mining industry etc.
Land developer.
Houses layout can be custom made. Some of economic designs are as follow.